The Final Season of Game of Thrones begins on Sunday April 14, 2019! If you have been a fan of this epic saga since the beginning or are a newbie to the craze like we are, you know this is a pretty big deal. We are going to find out who wins the Game of Thrones, who dies and how many dragons survive!
If you are having a private viewing party at your home, we suggest checking out these fun G.O.T. Viewing Party Snacks and Game of Thrones cocktail ideas.
Game of Thrones Trivia Nights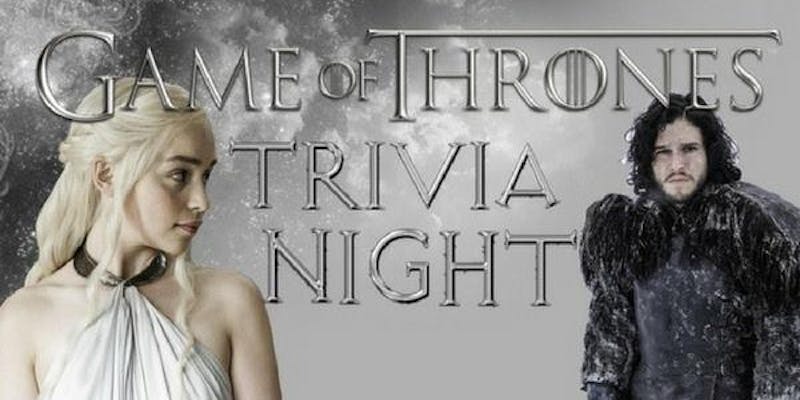 April 12, Game of Thrones Trivia Night Fri, 7 – 9 PM Blake Street Tavern, 2301 Blake St Denver, CO
My Jammin' DJ's is putting on a Game of Thrones theme Trivia Night at Blake St Tavern on April 12th at 7 pm! $10 to join which includes a free draft Coors, Coors Light, or Blue Moon! Tickets
Benefitting Give Good, Get Good, whose proceeds go to Children's Hospital!
Who will take The Throne?
Tue, April 9, 2019 6:40 PM – 8:40 PM
A Themed Trivia Night honoring the pop culture phenomenon that set the record for most Emmy Wins ever for a scripted television show. Assemble your noblemen, and challenge other teams in a fierce competition.
Game of Thrones Themed Dinner Menu and Beer Pairings / Giveaways / Themed Specialty Cocktails / Game of Thrones Prizes
Bar & Patio Seating is first come, first serve 
Limited Reserved Tables avaialble via Eventbrite 
Hosted by Excalibur Mobile Entertainment & The Monkey Barrel 
This is a 21 + Event
YOGA AND WHITE WALKER GAME OF THRONES PUB CRAWL
by Nui Mana Yoga$20 – $30
Sun, April 14, 2019
10:00 AM – 8:00 PM
Hotel Denver
1612 Wazee Street
Denver, CO 80202
Tickets
Game of Thrones Watch Party
Sun Apr 14, 2019, at 06:00 pm
Pride and Swagger, 450 E 17th Avenue #110
Denver, Colorado 80203
Winter is coming to Pride & Swagger!
Join mega fans as we return to Westeros one last time for the Final Season of GOT!
Gather your banner men to cross the narrow sea, breach the gates of the red keep, scale the wall, and secure your seats at Pride & Swagger to watch who will come to power and rule on the iron throne for good.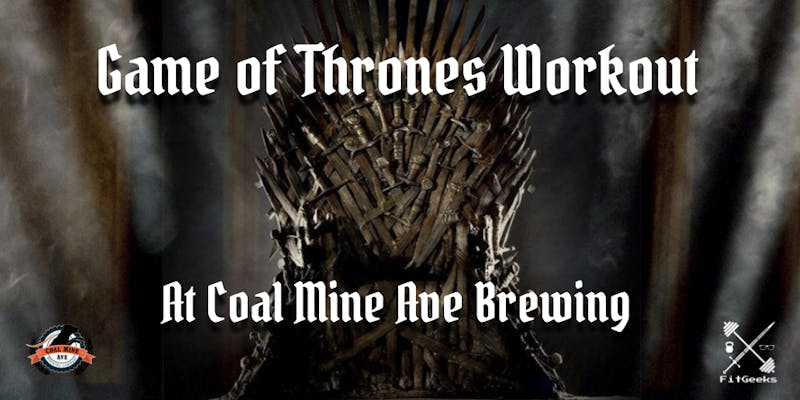 G.O.T. Workout
Come to Coal Mine Ave Brewing for a Game of Thrones inspired workout to celebrate the kickoff of the last season. The workout will consist of exercises inspired by the different houses in Game of Thrones. After the workout, enjoy $1 off pints in the taproom!
We'll get the workout started right at 11, so arrive about 10 minutes early to sign a waiver. Tickets here
Coal Mine Ave Brewing Company
9719 West Coal Mine Avenue #Unit A
Littleton, CO 80123
Game of Thrones Trivia Night
Tue Apr 16, 2019, at 05:00 pm Dirt Coffee Bar, 5767 S. Rapp St., Littleton, Colorado 80120
The winter may have come and gone, but April's trivia theme is Game of Thrones! Trivia will start promptly at 6pm and range from easy to difficult as the rounds progress. A table can be reserved for your team with advanced notice and a $25 minimum. Give us a call or drop us an email today.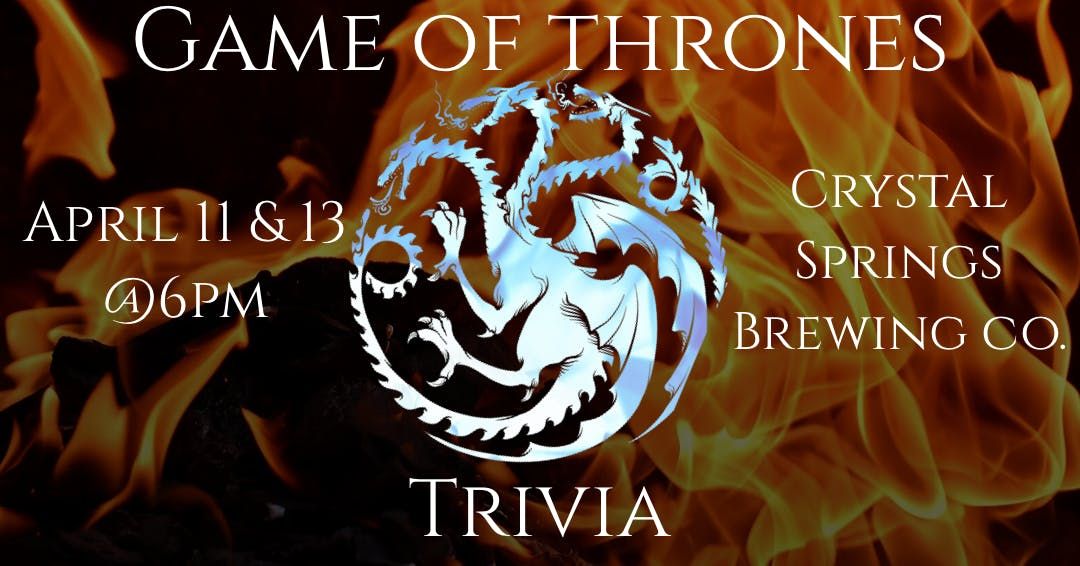 G.O.T. Trivia at Crystal Springs Brewing Company
Thu Apr 11 2019 at 06:00 pm
Crystal Springs Brewing Co.,
657 South Taylor Avenue, Louisville, Colorado
Game of Breweries
To celebrate the final season of Game of Thrones, seven breweries came together to brew some creative beers. Each brewery was given a GOT House and then brewed a beer that best fit that House.
Buy a $10 map of Westeros at any participating brewery to start your journey through the relm. By purchasing the Game of Breweries Map, it entitles the holder to a Buy One, Get One pint of the specialty GOT beers. Upon completion of visiting all seven houses, you can drop off your Game of Breweries Map at your favorite house for a chance to win raffle prizes! 
All seven beers will be tapped on April 1st! Complete your beer journey by May 12th to enter in to any raffles! Make sure to get all seven before they are gone!
Raffle winners from each house will also be entered into a Seven Kingdoms raffle! 
Limited amount of Game of Breweries Maps are available at each participating brewery. 
House Stark: Elizabeth Brewing Co
House Arryn: Peaks N Pines Brewing Co
House Hoare: FH Beerworks
House Lannister: Cerberus Brewing Co
House Gardener: Fossil Craft Beer Co
House Durrandon: Brass Brewing Co
House Martell: Florence Brewing Co
Visit their Facebook event for more information
If you know of any other events we should include, please let us know in the comments